RUTH SUBRIN, MFT, ATR
Licensed Marriage and Family Therapist (MFC45467) and Registered Art Therapist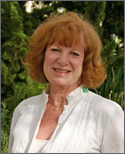 Education
Phillips Graduate Institute, MA in Psychology & Art Therapy
Clinical Training
California Graduate Institute Counseling Center
Center for Healthy Aging
Psychological Trauma Center, Cedars Sinai Medical Center
Poseidon School
OPICA
Additional Training
Sensorimotor Psychotherapy, Level 1
Various Workshops for therapists presented by Expressive Arts for Psychotherapists: drumming, art therapy, drama therapy, meditation, DBT, dance, yoga, music therapy, and somatic psychotherapy.
SoulCollage© Facilitator Training, Seena B. Frost, M.A., MFT
Creativity with Art and Writing, Phil Costineau - Esalen Institute
Using Arts to Teach End of Life Care, Judith Bertman, PhD
Guided Imagery & Healing, Fredda Wasserman, MFT
Being with Dying, Joan Halifax - Upaya Center, Santa Fe, NM
Shaman Training with Carol Proudfoot and Michael Horne
The Art Studio and Brentwood Art School, drawing, painting, sculpture
Pure Yoga Teacher Training, Rod Stryker (postures, meditation, philosophy)
Sandplay Training, Jung Institute
Bereavement Counseling, ourhouse
Hospice Volunteer, Sunrise Hospice
Professional Designations
Licensed Marriage and Family Therapist (LMFT)
Registered Art Therapist (ATR)
SoulCollage® Facilitator
Awards
2005 Shirley Riley Art Therapy Scholarship
1993 Aviva Center and Los Angeles Dodgers Volunteer Recognition Award, "Hometown Hero".
Professional Affiliations
Alpha Epsilon Lambda PGI Honor Society
Southern California Art Therapy Association
American Art Therapy Association
California Association for Marriage and Family Therapists
Publications
Co-Author on a chapter: Alzheimer's Disease: Creativity, Art and the Brain. In the book,
Art Therapy and Clinical Neuroscience
. Edited by Noah Hass-Cohen, Director of the Art Therapy program at Phillips Graduate Institute
Teaching
2012-2015 Expressive Arts Workshops for Therapists--Organized CEU workshops presented by psychotherapists who utilize creative arts in their work with clients.
2005 - 2006 Workshop on Creative Ideas for Working With Elders, Phillips Graduate School
2005 - 2006 Exploring Aging: Creating New Beginnings, An Experiential Lecture for Baby Boomer Women, Santa Monica Co-opportunity
2005 Coping with Grief and Loss: A Lecture on Bereavement
2008 SoulCollage©: An Intuitive Process to Help Expand Your Personal Insight, Santa Monica Co-opportunity
2008 Creativity and Aging: Senior Arts Festival Celebration of Life, Santa Monica
2009 SoulCollage© Phillips Graduate institute Art Therapy Graduate Students
2009 SoulCollage© Mystic Journey Bookstore
2011 SoulCollage© Los Angeles CAMFT Expressive Arts Group
2011 What is Art Therapy? San Fernando Valley CAMFT
Current Group Work
Multiple Sclerosis Achievement Center at UCLA - Art Therapy Group
Westside Treatment Center - Art Therapy Group at IOP
Serenity Trauma Healing Center - Art Therapy with Individuals at IOP
Bridges for Recovery - Art Therapy Group at inpatient program
OPICA - Group and Individual Supervision of MFT interns and trainees
1329 Harvard St. #1, Santa Monica, CA 90404 • 310.283.4986 • subrinart@msn.com